Product Introduction
Raymond roller mill machine is a common milling equipment,which is mainly used for high and fine milling of more than 280 kinds of materials in non flammable and explosive mineral, chemical, construction and other industries with Mohs hardness no more than 9.3 and humidity below 6%.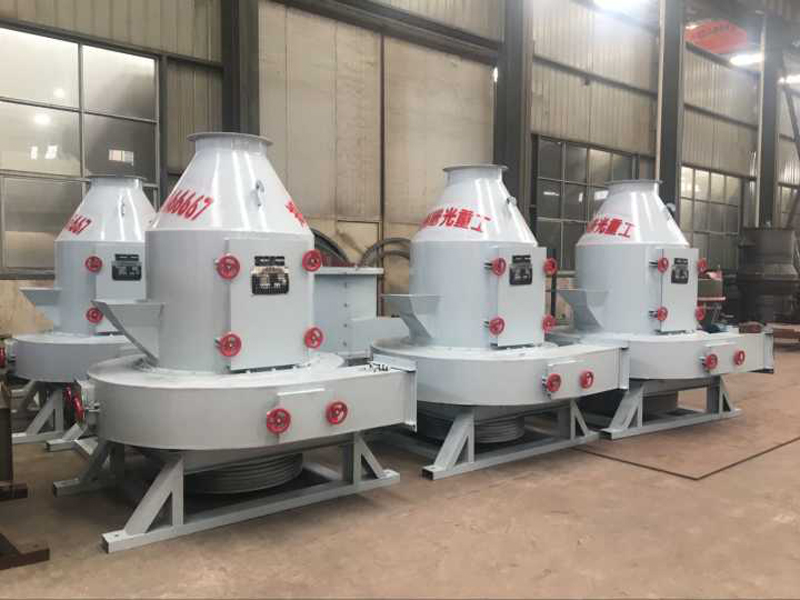 Working principle
When Raymond roller mill is working, the materials to be crushed are first put into the machine from the feed hopper on the side of the machine cover. The grinding roller device suspended on the plum blossom frame of the main machine will rotate around the vertical axis, and at the same time, it also has its own rotation. Under the action of centrifugal force, the grinding roller swings outward and presses tightly on the grinding ring to crush the materials between the grinding roller and the magic ring, so as to achieve the purpose of crushing the material.
Structure features 
1. Raymond roller mill has three-dimensional structure, small floor area and strong complete set. It is an independent production system from block material to finished powder.
2. The fineness of the finished product powder is uniform, and the sieve passing rate is more than 99%, which is difficult to be possessed by other milling equipment.
3. The transmission device of pulverizer host adopts sealed gear box and belt wheel, which has stable transmission and reliable operation.
4. The important parts of Raymond roller mill are made of high-quality steel, and the wear-resistant parts are made of high-performance wear-resistant materials, with high-performance and reliable operation.
5. The electrical system adopts centralized control, and the milling workshop can basically realize unmanned operation, and the maintenance is convenient.
Technical Data
| | | | | | | | | |
| --- | --- | --- | --- | --- | --- | --- | --- | --- |
| Model | 6R4525 | 5R4119 | 4R3216 | 3R3015 | 3R2715 | 3R2615 | 3R2115 | 3R1510 |
| Feed size(mm) | ≤30 | ≤25 | ≤25 | ≤25 | ≤20 | ≤20 | ≤15 | ≤15 |
| Finished particle size(mm) | 0.125-0.044 | 0.125-0.044 | 0.125-0.044 | 0.125-0.044 | 0.125-0.044 | 0.125-0.044 | 0.125-0.044 | 0.125-0.044 |
| Speed of central shaft(r/min) | 82 | 105 | 130 | 160 | 160 | 160 | 180 | 280 |
| Grinding ring inner diameter(mm) | 1620 | 1270 | 970 | 865 | 830 | 780 | 650 | 495 |
| Grinding roller diameter(mm) | 450 | 410 | 320 | 300 | 270 | 260 | 210 | 150 |
| Grinding roller height(mm) | 250 | 190 | 160 | 160 | 150 | 150 | 150 | 100 |
| Host motor | y315m-4-132 | y280s-4-75 | y225s-4-37 | y225m-8-22/30 | y225m-8-22 | y225s-8-18.5 | y200l-8-15 | y160m-6-7.5 |
| Fan motor | y315m-4-132 | y250m-4-75 | y200l-4-37 | y180m-4-22 | y160l-4-18.5 | y160l-4-15 | y160m-4-11 | y132s-2-5.5 |
| Analyzer motor | y160m-4-11 | yc200-4b-7.5 | yc120-4a-5.5 | y112m-6-2.2 | y112m-6-2.2 | y112m-6-2.2 | y112m-6-2.2 | y90l-6-1.1 |